The Associate of Science in Nursing program of Life University is to provide graduates with:
Objective 1: Appropriate knowledge, skills and attitudes to provide health services in line with the identified strategies of the Health Care System of Ministry of Health.
Objective 2: Comprehensive detailed knowledge and understanding of the essential concepts underpinning the core functioning of Health Care System.
Objective 3: Precise knowledge of the main concepts and analytical tools used in nursing-related decisions, the ethical issues which confront contemporary medical/health fields, and society, culture, and skills relevant to civic engagement.
Objective 4: Abilities to critically analyze patient's or client's conditions through the use of reliable and relevant research evidence to assist in the solution of the health problems.
Objective 5: Abilities to effectively communicate with all other medical staff.
Objective 6: Responsibilities to the institution where they work, community, and society with awareness of professional ethics.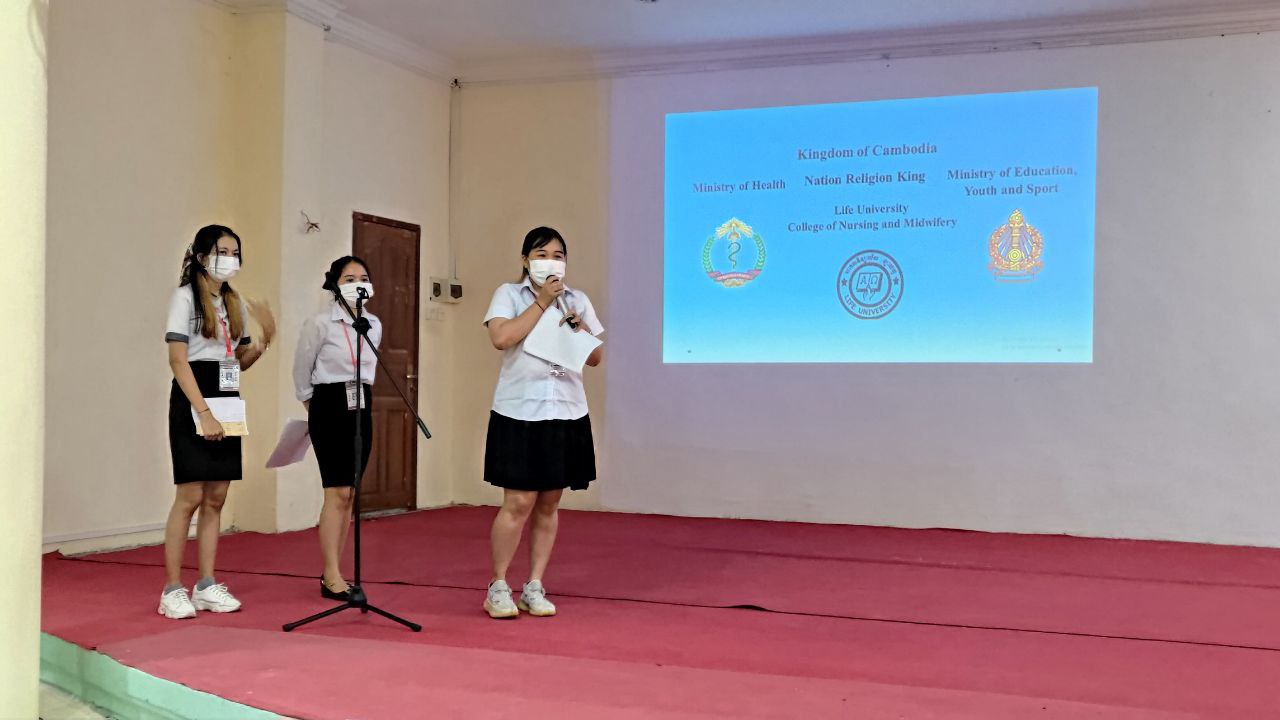 Foundation Year
First Semester
Second Semester
Course Code
Subject
Credits
Hours
Course Code
Subject
Credits
Hours
THE2105
Introduction to Christianity I
1
16
THE2205
Introduction to Christianity II
1
16
ENG2101
English I
2
32
ENG2202
English II
2
32
SOC2101
Sociology
1
16
Subtotal
3
48
Subtotal
4
64
NUR2101
Fundamental Nursing I
4
64
NUR2201
Fundamental Nursing II
4
64
NUR2102
Nutrition
2
32
NUR2202
Nursing Process & Critical Thinking
2
32
NUR2103
Microbiology & lab
2
32
NUR2203
Health Assessment
2
32
NUR2104
Pathophysiology
2
32
NUR2204
Pharmacology
2
32
NUR2105
Health Promotion & Health Education
2
32
NUR2205
Adult Nursing I
4
64
NUR2106
Introduction to Nursing
2
32
NUR2206
Communication
1
16
NUR2107
Growth & Development
2
32
NUR2207
Comprehensive Practice I
1
45
Total
16
256
Total
16
285
Total Credits for Foundation Year: 39 = 653 Hours
Second Year
First Semester
Second Semester
Course Code
Subject
Credits
Hours
Course Code
Subject
Credits
Hours
NUR3101
Maternity & Women's Health I
2
32
NUR3201
Adult Nursing III
4
64
NUR3102
Pediatric Nursing I
2
32
NUR3202
Maternity & Women's Health II
2
32
NUR3103
Psychiatric Mental Health Nursing I
2
32
NUR3203
Pediatric Nursing II
2
32
NUR3104
Community Health Nursing
2
32
NUR3204
Psychiatric Mental Health Nursing II
2
32
NUR3105
Adult Nursing II
4
64
NUR3205
Epidemiology & Communicable Disease
2
32
NUR3106
Nursing Ethics & Law
2
32
NUR3206
Gerontological Nursing
2
32
NUR3107
Clinical Practice II
4
180
NUR3207
Clinical Practice
4
180
Total
18
404
Total
18
404
Total Credits for Second Year: 36 = 808 Hours
Third Year
First Semester
Second Semester
Course Code
Subject
Credits
Hours
Course Code
Subject
Credits
Hours
NUR4101
Nursing Research
2
32
NUR4201
Thesis
2
32
NUR4102
Nursing Management
2
32
NUR4202
Clinical Practice: Adult Nursing
2
90
NUR4203
Clinical Practice: PMHN
3
135
NUR4104
Clinical Practice: Pediatric Nursing
3
135
NUR4204
Clinical Practice: Community Health Nursing
3
135
NUR4105
Clinical Practice: Maternity & Women's Health
3
135
NUR4205
Clinical Practice: Nursing Management
3
135
NUR4106
Clinical Practice: adult Nursing
3
135
Total
13
469
Total
13
527
Total Credits for Third Year: 26 = 996 Hours
Grand Total Credits: 101 = 2457 Hours
Anthropology (ANTH)
Archaeology (ARCHY)
Biological Anthropology (BIO A)
Art (ART)
Art History (ART H)
Design (DESIGN)